Over the past year, the home has evolved into a multi-faceted space: workplace, daycare, school, test kitchen, recovery room, recreation center. While gyms are reopening across the country, their safety and convenience may be lacking, making working out at home more appealing than ever. Now is a great time to invest in exercise equipment, and there's no better piece of machinery than the exercise bike. They provide a low-impact, high-calorie burning, versatile workout while taking up little space in the home, making them a great fit for anyone regardless of age or experience level.

Update your home gym with the best exercise bikes on the market in 2021:
Bodyse Desk D1 – Exercise Desk Bike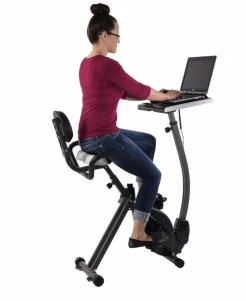 This is perhaps the most fitting exercise bike for the intersection of the workplace and home we've experienced as of late. The Bodyse Desk D1 combines the work grind with the fitness grind to reduce the negative impacts of sitting for prolonged periods. Cycle as you discuss progress reports with colleagues or while putting together a PowerPoint for the big meeting with your supervisors. Computer-based work is usually inactive, which can lead to a low basal metabolic rate, blot clots, weight gain, and cardiovascular disease.
The benefits of cycling counteract these effects, as well as aiding in muscle building and improving mental health. The sleek frame of the D1 bike is completely adjustable to your height and preferred working posture, and its cushioned seat is perfect for a comfortable ride. The adjustable propped table is great for the conscious worker or student, the Netflix junkie, or the avid reader. With a one-year warranty, you can't go wrong.
Bodyse S190 – Spinning Bike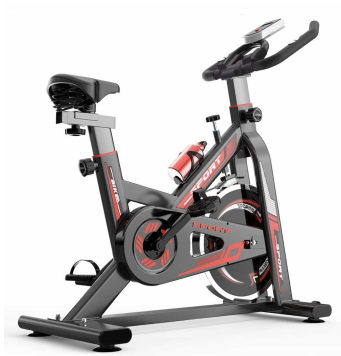 The S190 is a little more technically functional than the D1 desk bike, given its display screen, flywheel weight, and heart rate sensors on its handles. Thus, this bike is great for the dedicated athlete or those with clear fitness goals. The seat is adjustable in four ways to fit your preferred posture, and there is a range of tension settings for use in High-Intensity Interval Training and building up endurance over time. The metal frame is both sturdy and compact, so it's a great fit for a corner of a room or in a small home gym. Its virtual noiselessness is ideal for cycling at night, or for those with napping children or family members working from home.
Bodyse M1 – Magnetic Exercise Bike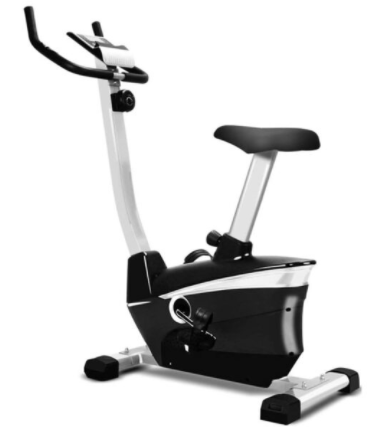 An exercise bike with an elevated frame may help with posture control and joint health, given the healthy sitting position it encourages and the leg extension that comes with the large seat to pedal distance. Eight levels of resistance and an incline feature enable a variety of workouts, and the extra-wide, extra-padded seat is ideal for both those who struggle with joint pain and anyone seeking a comfortable exercise experience. The screen display is stylish and simple to use, able to track heart rate, speed, distance ridden, and calories burned. Compatibility with joint health and overall comfort are at the forefront of the bike's design. With fewer resistance levels and an exceptionally soft seat, the M1 bike suits long-distance cyclers better than high-intensity trainers.
Bodyse F1 – Foldable Exercise Bike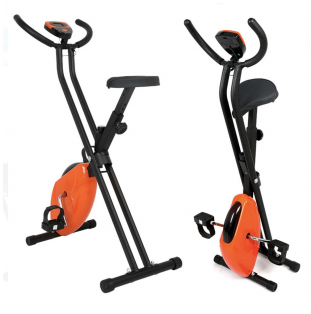 Though most exercise bikes are quite compact, there's none better for small spaces than a folding bike! Easily tuck away the F1 when not in use to make space in a small or crowded home. The unbelievably simple setup and compact structure make taking this bike anywhere a possibility—never miss an
opportunity to cycle! Beyond its ability to fold, this bike has all the important features: adjustable resistance levels, a calorie-burning tracker, odometer, and timer. The pedals feature an adjustable strap to fit any foot comfortably, and the handle grips are soft as silk.
The F1 is great for anyone without much space to spare, and those who don't want to miss a day on the bike, wherever in the world they may be. Weighing in at a mere 10.8 kilos, your bike can follow wherever you go.
Bodyse S150 – Spinning Bike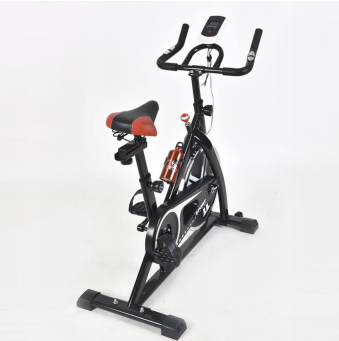 The spring under the seat allows the user to cycle more comfortably than with a completely unmoving seat, adjusting to your unique cycling motion and engaging your core. The texture on the pedals ensures stability during your workout. Sensors on the ergonomic, adjustable handles track your heart rate, allowing you to change your resistance level to match your target heart rate. The display screen also shows your speed, calories burned, and time elapsed.
Its stability and noiselessness are stellar, particularly useful for the speedy cycler. The S150 is suitable for the data-driven athlete; someone who is motivated by seeing their progress in front of them and those who prefer a comfortable ride.
Whichever exercise bike you end up going with, you are bound to enjoy the cycling experience. The key is knowing yourself and your body in order to choose the right bike for you. Your fitness goals should reflect a keen understanding of your body's needs and capabilities; an 85-year-old asthmatic, for example, might want to increase their endurance slowly over time, while focusing on controlling heart rate and breathing. A 32-year-old overweight person might seek a high-intensity interval training routine to get rid of stubborn belly fat. Your fitness journey is unique to you, it must be remembered. Keep in mind that your needs will change over time as well. The versatility of exercise bikes allows for a change in workout style and intensity, giving you the assurance that you will never fall into a fitness rut.
Your healthiest self is calling—let an exercise bike pick up the call!